Below are a sampling of services we provide, and what you can expect to pay for them. Prices do not include applicable parts, shop material fees, or tax. Please keep in mind that the flat fees are based on simple jobs. From time to time, "simple" jobs are complicated by additional factors. When this happens, a job requires more time, and may incur additional labor charges.
---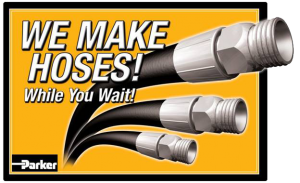 Need a hydraulic hose? We will make it while you wait. If we don't have the required fitting, we offer 1-2 day service.
Notes: You must bring your old hose for us to match up.
We do not repair old hoses.
Pick-up and Delivery
Minimum $45. round-trip first piece (first 5 miles)
1/2 price for each additional item.
Additional for Hand-held equipment $5. each
Recovery Fee – Minimum $15. We ask that equipment to be picked up be accessible. If equipment is not where our truck can back up to it (such as a driveway) and our driver has to push, pull, or tow the equipment in order to get it to our truck; a Recovery Fee will apply.
Hourly Labor Rate – Standard Repairs $65.00 per hour. $16.50 minimum.
Diesel & Electrical Repairs $65.00 per hour. $30.00 minimum.
Estimate Fees – Fee charged on equipment looked at, but not repaired.
Hand-held Equipment (Echo, Shindaiwa) = $15.90
Hand-held Equipment (all other brands) = $31.80*
Push / Self-Propel Equipment = $31.80
Riding Equipment = $31.80 min. – $116.60 max. Cost of estimate is determined after inspection by mechanic, due to varying times required to diagnose any given repair.
Electrical Issues = $63.60
Estimates are given upon request or if there is a question as to whether a repair is worth the cost.
Estimates do extend the turn-around time on repairs.
Pre-approving a repair cost limit will save time.
If an estimate is generated, for whatever reason, the fee covers the cost of tear-down only.
Separate labor must be paid for reassembly.
*Due to costs of labor & parts, we discourage drop-off of hand-held equipment unless you're willing to spend up to $100. to repair.
Hydraulic Hoses – $15.90 per hose, plus cost of hose and fittings.
Mower Blade Sharpening and Balancing
$ 6.36 each when dropped off unmounted.
$15.90 minimum when mounted on the mower deck. We must remove the blade to sharpen; plus we scrape off the excess grass build-up from underneath the deck.
Chainsaw Chain Sharpening
$ 5.30 each 18″ or shorter bar length, when dropped off unmounted.
$ 7.42 each 20″ or greater bar length, when dropped off unmounted.
$15.90 when mounted on the chainsaw. When mounted, we also clean off the excess wood shavings and grit from the bar mount area.
Tire Repair
– Sorry, we don't repair ATV, automotive, or industrial tires.
$ 5.30 each to plug a hole, if marked in advance.
$ 8.50 plus parts for tube installation.
$ 8.50 plus parts for tire replacement.
$12.00 plus parts for tires 20″ or greater.
$15.00 minimum when tire or tube is supplied by customer.
Quotes available for farm tractor tires.
Starter Repair
$ 8.50 plus parts if brought in not mounted on the unit.
$15.00 minimum if we need to R&R the starter assy.
Storage Fee
$ 5.00 per day, if not picked up within 10 days of notification that repair is complete.
We make every effort to contact our customers to let them know their equipment is ready for pick up. If, after initial notification, 30 days pass and equipment has not been picked up, it will be considered abandoned. Abandoned equipment will be disposed of, at our discretion.